It's an exciting prospect, investing in new technology that will propel your construction firm forward. Competitive advantage, enhanced productivity, delighted staff and/or customers, eliminated operational pain points and boosted profits are close at hand. However, getting everyone in the business on board with technology changes needs to be carefully managed.
Historically, the construction industry has struggled to embrace new technology and as such, lags behind other industries in terms of productivity.
According to recent research, global labour-productivity growth in construction has averaged 1% annually over the past two decades, compared with 3-4% growth across other sectors. If construction caught up – primarily by using new digital tools and technology solutions – the industry's output would increase by roughly £1.2 trillion per year.
A number of construction companies are now realising the full potential of digital solutions and incorporating more technology into their day-to-day operations.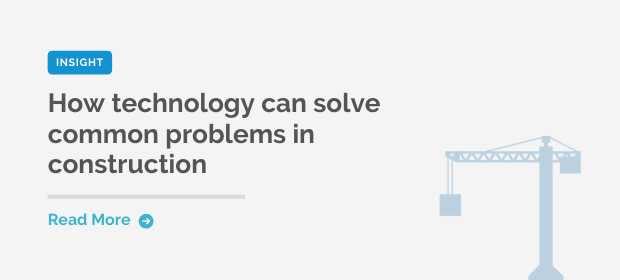 Launching new technology into a construction firm has a unique set of challenges, namely: a workforce that, traditionally, is not tech-savvy; projects involving numerous suppliers, contractors and sub-contractors potentially reluctant to adopt new systems for short-term contracts; and business units, divisions and teams that work in silos with non-standardised processes.
If you're on the cusp of transforming your technology, here are 10 key strategies to enable your construction business to successfully roll-out new technology that will be well-received by staff and partners, and continue to strengthen productivity and profits:
1. Be clear on the high-level goals
Having a clear vision for what the new technology will do – and why – is critical. It should fix specific pain points, and have a strategic purpose unique to your business, rather than simply being a software solution.
For example, a goal could be to create a customised application on a tablet that improves all processes for on-site staff. It will enable them to execute tasks that were previously paper-based on easy-to-complete digital forms that feed immediately into the system. This application will eliminate the risk of paper loss, inconsistency in filling out written forms, unmanageable data, no clear reporting or real-time analysis, and delays in sharing data with relevant parties.
2. Get extensive feedback from end users before development starts
Before you start the development process, it's essential to gather first-hand feedback from those who work on a daily basis with the current systems and the issues they face. Understanding these day-to-day struggles will enable you to create a fit-for-purpose solution that is eagerly accepted by the end users.
Gathering feedback from different levels of digital users will enable you to define business requirements for different roles. For example, including reporting functions for upper management to report on equipment that has been faulty over the past six months, as well as encorporating essential functionality to make simple onsite processes seamless.
Our article 'How to deliver systems that meet employee need and business growth' goes into more detail on why bottom-up feedback matters.
3. Give your software development partner plenty of opportunity to understand the issues
At the very beginning of the project, organise workshops and meetings with key team members to allow your construction-technology partner to really 'dig deep' on existing processes, workflows, workarounds and analyse their flaws. This enables your partner to envisage how processes can be improved by digital solutions.
4. Fit the technology to the ability of the users
Ensure that you fit the new technology to the level of the end users. For example, having simple and straightforward interfaces for end users who aren't tech-savvy will ensure the applications can be used effortlessly.
This is also important when designing new operational workflows and step-by-step processes so that the sequence of actions is intuitive rather than convoluted or confusing.
5. Ensure the functionality is tailored to the end users
Including very specific functionality that has a clear benefit to the end users will ensure new technology is adopted with enthusiasm rather than indifference.
This could include digitalising once paper-based, tedious timesheets to make them speedy to complete with one-click, or reducing the previously long-drawn-out holiday sign-off procedure so it's instant. 
6. Create a sense of ownership by involving end users in development
As described above, involving end users from the start, for example in workshops, will give them a sense of ownership. However, it's also important to keep them involved at all the different stages of the software development process.
Extensively testing prototypes with those who'll be using the new technology will ensure that it works intuitively. The honest feedback becomes a blueprint for the rest of the application – making it consistent and easy to use.
Staff will feel that they have helped create and shape the new technology and be proud when it comes on board. These passionate advocates will help to 'sell' the new technology to others in their teams. They'll be excited about using it and implementing it, rather than reluctant to change.
7. Tell your staff and relevant partners new technology is coming at least six months in advance
Seeding the idea in advance that new technology is on its way will prepare employees for change, get them excited and give them the opportunity to raise any concerns. A minimum of six months ahead of the launch date is ideal.
8. Communicate different messages to different stakeholders
Tailor communications to the stakeholder to ensure they resonate. For example, board-level stakeholders need top line overviews with stats and data relevant to their objectives e.g. expected growth in productivity of X%.
Whereas staff who will be using the technology everyday might need more granular messages about how the new digital solution benefits them individually, such as 'will cut your admin time in half'.
9. Provide thorough training and support
A complex application, difficult-to-operate hardware or a convoluted digital tool that no one knows how to use, or uses incorrectly, is counterproductive. Offer day-to-day users the right level of training and support.
Create comprehensive help and user guidelines that are easy to access so that users can look up their problem and find a solution immediately. Make learning to use the new technology as painless as possible to deflect resistance.
10. Act quickly to implement any tweaks following testing and roll-out
During testing, it's important to work in an agile manner and act quickly on feedback from staff by enabling your software development company to build new features and put live. After roll-out, allow staff to use the new technology for one week and gather their responses.
Any small tweaks and nice-to-haves suggested, for example, 'can we have a button on this page that does X', should be seriously considered and implemented promptly – within two weeks, if possible. This enhances employee buy-in as they feel they're being heard and will see immediate changes that will further benefit them.
A Successful Introduction of New Technology
Getting your employees on board with your new software development project will ensure a successful introduction, and help to mitigate the risk of unpopular or unused technology.
Want to find out more about how you can ensure company-wide buy-in for your technology project? Talk to us on 0113 398 4199 or at info@audacia.co.uk.