Client
The National Institute for Health Research (NIHR) is the nation's largest funder of health and care research. With a mission to improve the health and wealth of the nation through research, the NIHR works in partnership with the NHS, universities, local government, other research funders, patients and the public to deliver and enable world-class research that transforms people's lives, promotes economic growth and advances science.
Background
The NIHR Clinical Research Network (CRN), part of the NIHR that provides the infrastructure which allows clinical research to be undertaken in the NHS in England, required a new platform to replace its existing finance tool.
This new finance platform would enable the CRN Coordinating Centre (CRNCC) to provide assurance to the Department of Health and Social Care that funding provided to the 15 Local Clinical Research Networks was being spent appropriately and efficiently.
The CRNCC needed a secure, centralised and highly resilient system that would support its evolving requirements, facilitating the tracking of forecasts and attribution of actual spend against the correct expenditure categories. In addition to this, the system needed to provide validation of user inputs, a full audit trail for analysis and the ability to integrate with other systems to allow for future changes in reporting needs, as well as provide the ability to identify trends or opportunities to improve efficiency of spend.
Solution
Audacia's team adopted a collaborative approach, working in partnership with the CRNCC's domain experts, business analysts and end-users to deliver a robust and secure finance platform.
Adopting a user-driven development approach, we mapped workflows and defined user journeys, delivering prototypes for key aspects of functionality to enable early user testing for rapid feedback loops. An iterative approach, based on fortnightly sprints, enabled us to refine requirements throughout to ensure a fit-for-purpose end product.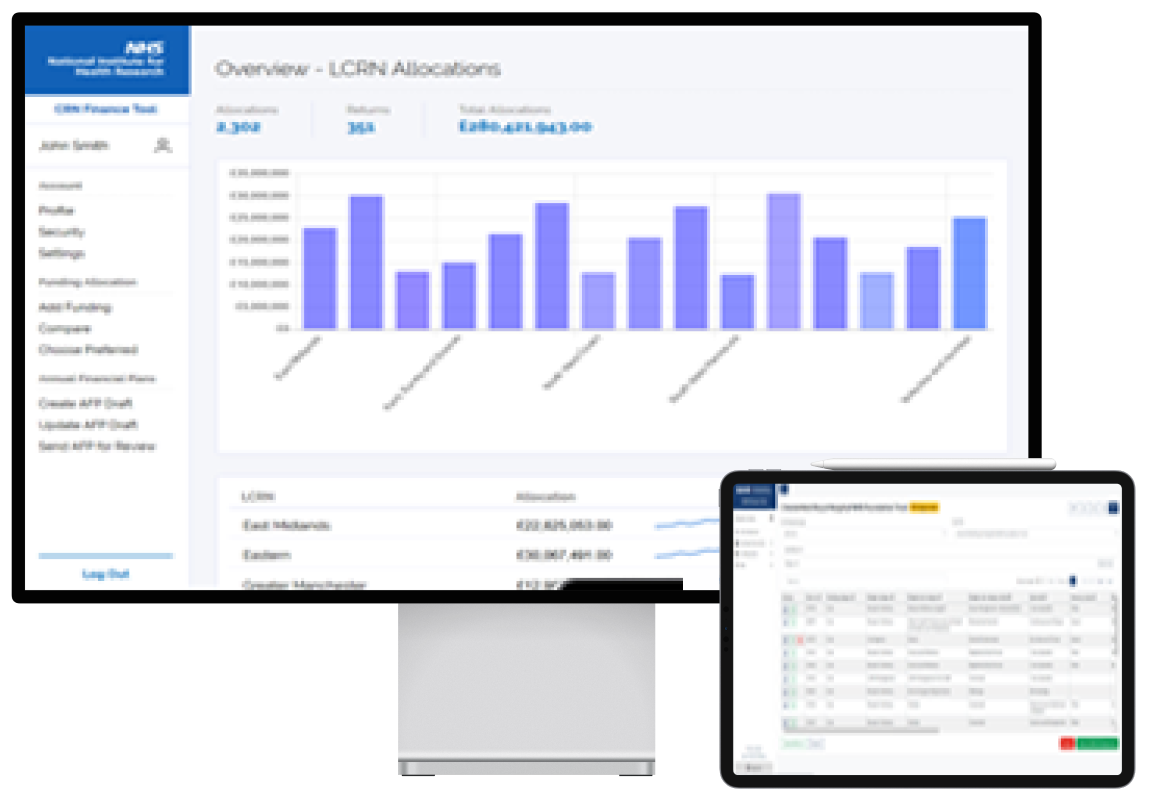 Results
Supporting funding allocation of over £317m per year
Financial submissions now taking seconds, rather than minutes
Managing funding allocation for clinical trials part of COVID-19 response
The new system provides simple and intuitive processes for inputting budget forecasts totalling £285m per year, reducing capacity for error, and provides the flexibility for real-time reporting and analysis. This enables the CRNCC to effectively understand actual spend versus forecasts and gain clarity around which reporting periods and expenditure categories the budgets are allocated against.
Easy-to-use and performing well, the new platform has streamlined processes, significantly improving efficiencies, with financial submissions now taking only seconds, rather than minutes. It also provides improved flexibility of online and offline financial data editing, improved data quality through wider data validation, and increased system performance, reliability and support.
Recently the system has been used to manage funding allocation across key clinical studies and therapeutic 'platform' trials, such as RECOVERY, REMAP CAP and PRINCIPLE, as part of the COVID-19 response throughout 2020/21 and continues to support the funding of an active and diverse portfolio of research and non-COVID-19 studies.