Client
Gymfinity Kids is the UK's first quality Gymnastic Club for kids offering exciting activities for children aged 0-16 years. 
Gymfinity has seven state-of-the-art clubs located throughout England that provide children with the best care, education, and facilities to help them become active, learn, and grow. A new club will soon be opening in line with the company's mission to provide fun and exciting experiences for as many children as possible.
Rooted in their pillars of Movement, Nourishment, and Development, Gymfinity has developed a reputation for being a company that supports children's personal and physical growth.
Background 
Gymfinity had an incumbent system to manage gym operations, however it was not fit-for-purpose; there was little to no reporting functionality and parents were unable to directly manage bookings, classes and payments for their children.
The company had also experienced issues around data duplication, posing a significant threat to customer data and costing them valuable time and resources to resolve. Lacking the adequate foundation to consistently carry out these transactions, the company was unable to continue operations sufficiently. 
There were no existing off-the-shelf products for gym management that supported the features and security required to manage gym memberships and events for children. Seeking a software provider who was capable of satisfying these needs,  Gymfinity came into contact with software development company Audacia. 
Solution 
Audacia collaborated closely with Gymfinity kids project stakeholders to deliver a bespoke end-to-end gym management system. 
The solution comprises an administrator portal to manage the end-to-end workflow of class and event creation, pricing and scheduling, including financial and operational reporting functions on aspects such as membership count and capacity tracking overtime. 
As well as a self-service parent portal in which customers can manage subscriptions, payment methods and event bookings, supporting the management of memberships of multiple children, age minimums, medical notes and limits for classes and events, including additional security around the use of member photographs and data. 
Adopting an agile method, the system was developed using an iterative approach, enabling functionality to be adapted to user-feedback throughout the development process, ensuring the end product was intuitive and fit-for-purpose.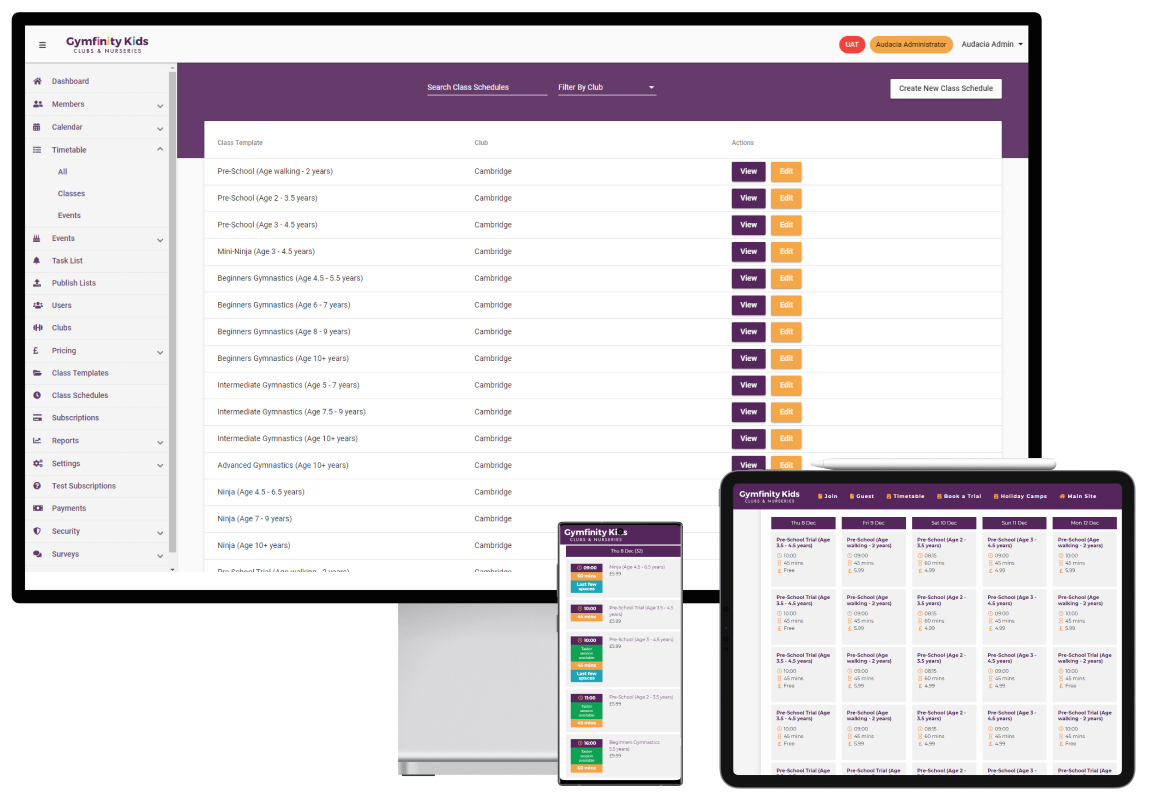 Results
Supporting 6,000+ end-users
Secure management of children's personal data
Centralising operational practices across 7 locations
Through the new platform, business functions can be managed seamlessly from end-to-end, providing enhanced visibility over key data, including membership bookings, events, and classes. The platform also delivers advanced reporting capabilities for financial data, as well as operational data, such as membership statistics and capacity tracking across UK sites.
With a fully functional booking and payment system, Gymfinity Kids' thousands of members have enjoyed a significantly improved user experience. Improving these core business functions allows the company to transition into their next stage of growth.