Client
Mach Recruitment provide on-site and branch recruitment services to suit any organisation's infrastructure, with an unrivalled reputation for being innovative, original and proactive helping them to become industry leaders. With experience in food production, manufacturing, warehousing, distribution and chilled environment industries, Mach Recruitment operate from 43 locations and have made more than 17,000 successful placements. The company recently supported fashion retailer PrettyLittleThing - part of the £579.8m Boohoo.com group - on recruitment for 1,200 roles at its new 600,000 sq ft. warehouse.
Background
Mach Recruitment pride themselves on innovative systems, with technology being the factor that sets them apart. As Mach continued to expand, they looked to automate their existing, paper-based registration process in order to achieve further digital efficiencies, reduce the possibility of human error throughout the process, and further enable a more streamlined and robust candidate selection and job allocation process.
Solution
Audacia developed a centralised applicant management portal that enables employers and HR administrators to view, manage and book resources for jobs and track workloads. The tablet based application runs on custom wall mounted hardware and allows new applications to easily register with Mach Recruitment, reducing the resource requirement for receptionists, as well as the capacity for errors by automating the registration process.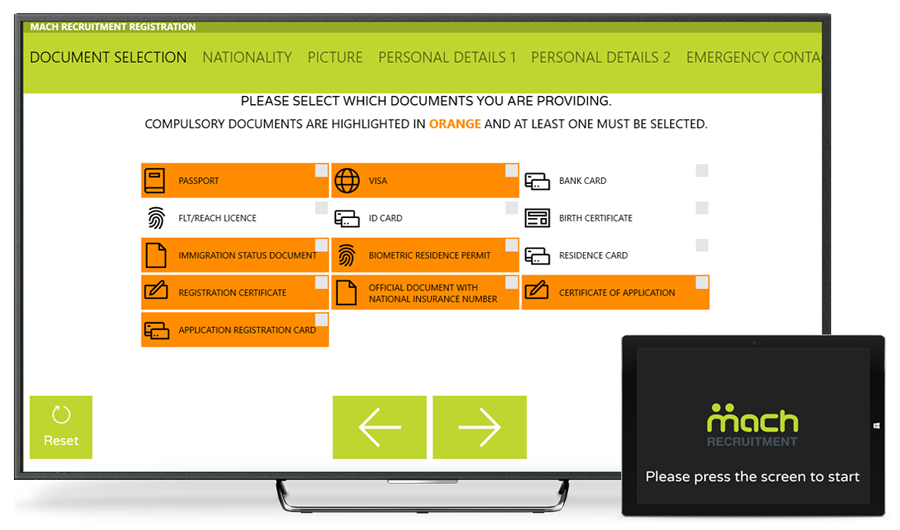 Results
Reducing resource requirements
Delivering commercial benefit to clients
Reducing errors through automation
This new software gives Mach Recruitment a competitive edge for winning new business and delivers a commercial benefit to their existing clients. Due to the success of the project, Mach have commissioned Audacia to develop an innovative watch app that will enable employees to communicate with employers and deliver real-time performance metrics.
Audacia build business-critical software platforms for clients across a range of industries, from recruitment and manufacturing, to agriculture and marine, working to solve complexities and enable people to work smarter: view more of our projects.