Client
Bellway Homes are one of the UK's largest house builders. For over 75 years, Bellway have built high-quality homes in carefully selected locations, inspired by the needs of real families.
While Bellway is a major developer, it has not lost sight of what buyers value and continues to build beautiful homes and communities across the country. By placing their customers first, they have built a trustworthy reputation.
Employing people from across the country, the company remains close to its customers and is able to meet local design, material, and specifications demands. Currently they directly employ just under 3,000 people across the UK, leading the way in terms of quality, service, and trust.
Background
As Bellway continued to expand its workforce, the company required a piece of software that was able to unify the disparate working practices across its different regional divisions.
Each different division was operating with different practices and working under slightly different housing specifications which created a disjointed workflow of guidelines when it came to finalising developments.
Additionally, Bellway was operating with a largely paper based system; there was no commonality in the way that documents were produced, which led to irregularities in working processes across departments and regions.
The objective of the project was to both update this existing legacy system and provide a robust platform capable of supporting all development processes — from setting housing specifications to reporting on key plotting efficiency targets.
Solution
Working in close collaboration with Bellway, Audacia developed a bespoke software application that manages all essential components of the property development process.
Covering Housing specification, Accommodation Reporting and Information, "Hari" was developed to enhance the consistency with which Bellway divisions followed housing practices.
A key component of this platform was Housing Specification, which sets a baseline of requirements to be used across all regions during development. Whenever users deviate from this specification, Hari provides a detailed outline of the additional expenses, allowing Development Managers to examine these costs before approving any plans. A user-friendly report of this product specification can then be generated and distributed to all relevant stakeholders.
Users can also choose from a number of house types from Bellway's Artisan Collection, including Blacksmith and Joiner. Hari is pre-configured with Bellway's flagship range to encourage standardised development practices; users who wish to deviate from this option are prompted to enter alternative information and provide justification for their decision.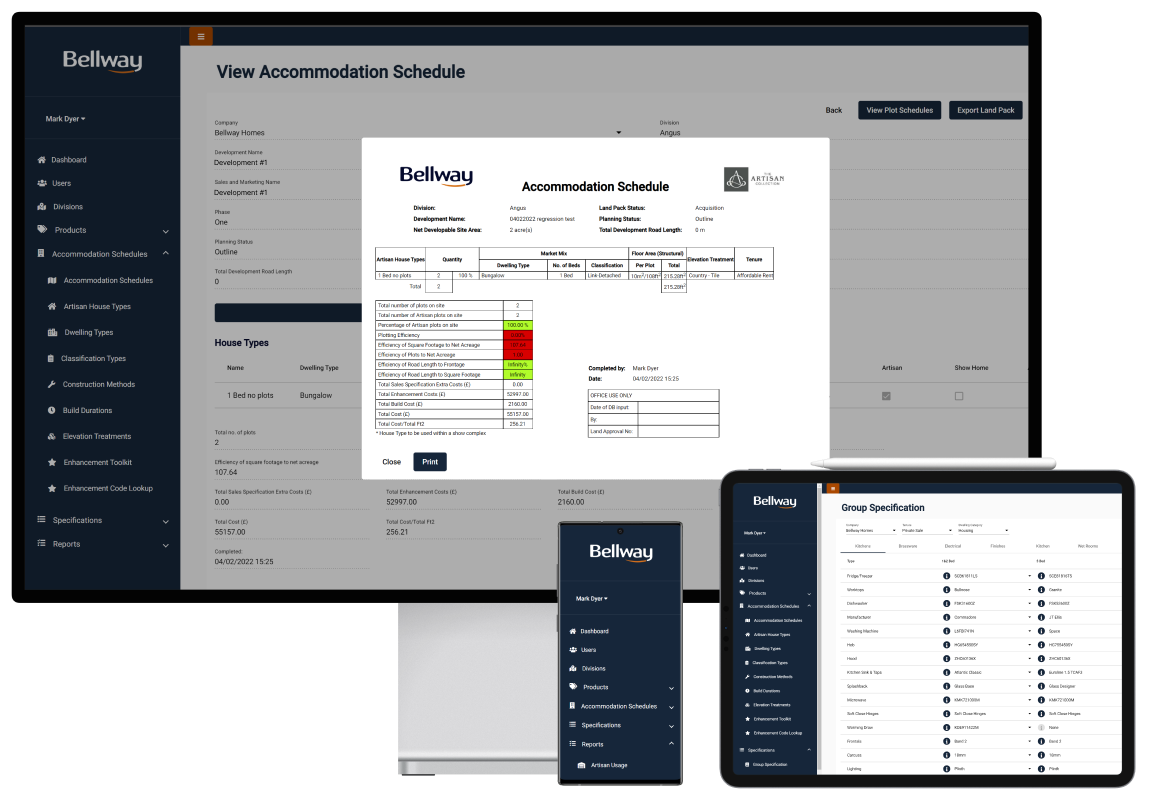 Results
Centralised working practices for 22 regional divisions
Increased visibility of over 50 enhancements for house types
Reduced risk of manual error
The key objectives of the project were achieved; through the platform, Bellway now has a single source of truth for its development process that is both accessible for users and in line with the company's specification requirements — allowing for frictionless operations across its 22 regional divisions.
While Hari is a standalone platform, all data can be easily exported into popular ERP software, COINS. Once data about the development has been input, users can generate a report that can be transferred into COINS, as part of the bulk upload process, ensuring that all documentation is transferable and accessible to stakeholders.
Success of this project has led to further updates with added functionality such as increased reporting, export options and support for the unique requirements of apartment building developments.
Also included was the ability for development managers to select a combination of 'enhancements' for plots on a development of the same home type, to provide individuality and further increase saleability of the plots.